Courtesy of Engine Builder
Dustin Damgaard is a diesel mechanic located in Peachland, Canada. He's been working in the diesel industry since 2008 and has two journeyman tickets for off-road mechanics and heavy-duty diesel mechanics; he also owns T&D Mechanical, which provides heavy equipment repair services in the air. Naturally, he knows a thing or two about diesel engine work. 
Damgaard's interest in the performance world began years ago when he attended a National Hot Rod Diesel Association (NHRDA) for the first time – building powerful race machines has been a hobby ever since.
"The truck I have now kind of spiraled from when I first got it," he said. "I bought it a few years back and it was pretty basic, a VP44 truck with a small turbo and chip in it. The itch kept itching so I tried a few different turbo and component setups on it."
The 5.9L Cummins eventually got the P-Pump treatment. The bottom end is essentially stock, and the stage 2 billet head unit comes from D&J Precision Machine. Damgaard says there was minor port work done, but nothing crazy. A number of aftermarket parts were installed to give the engine that extra kick, though.
After the block was stripped down, a colt stage 4 camshaft and tappets were installed. A Keating Machine billet tappet cover, front cover, block off plates, and freeze plugs round off the bottom end. Manton valve springs, retainers and bridges were also added.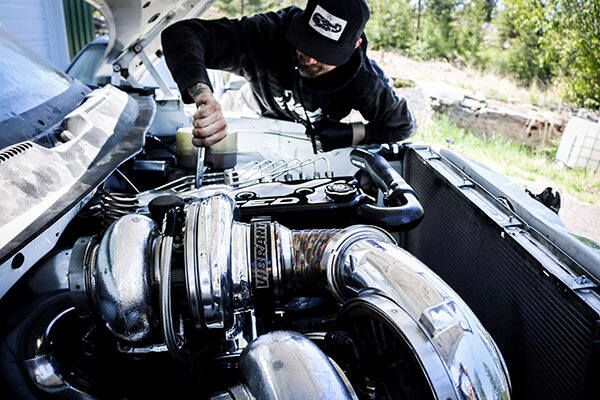 For the fueling side, Damgaard went with a Waterman fuel setup from Granby Truck Stop. Scheid diesel conversion lines and Westin Automotive 16×16 injectors with crossover tubes and the edge filters cut out are paired with an Industrial Injection 13mm fuel pump.
As for forced air, a Steed Speed manifold with a T4 inverted gate works in conjunction with a Forced Induction 467 on the manifold and a Garrett GTX50 88mm.