Courtesy of Engine Builder by Evan Laux
At the Ultimate Callout Challenge, we had the privilege of checking out an exceptional Duramax L5P engine build done by Keith Porter. Porter's project blends classic style with cutting-edge technology, and we were fortunate enough to catch up with him for an exclusive interview.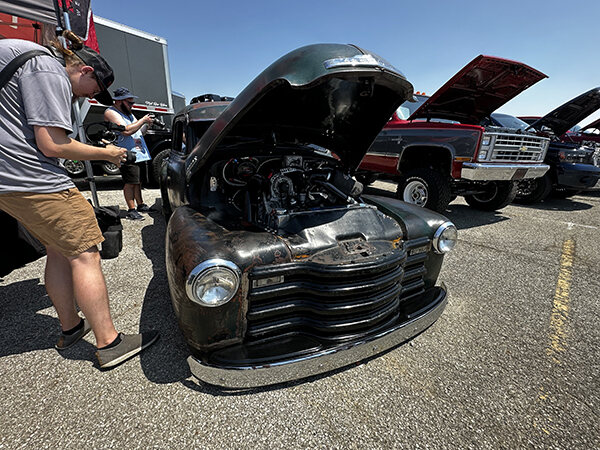 Porter's pride and joy is a 1952 Chevy 3100 pickup truck, a classic ride that's been given a new lease on life. He explained that his signature style is to make his projects look as though they could have rolled out of the factory in the way he's built them. But under the '52 Chevy's classic-styled exterior, there's a modern powerplant.
He swapped in the latest Duramax L5P engine, coupled with a 10-speed Allison transmission. Not stopping there, Porter added VGT turbo controls, custom pipe work by Wehrli, and a unique right-side cold air intake. It's clear that Keith's vision for his truck is all about pushing the boundaries of what's possible.
As with any ambitious project, Keith's '52 Chevy is still a work in progress. He shared that he set the motor back 8″ in the chassis, which means that any further modifications to the engine and fueling system would require disassembling the cab and front end. While this might sound like a daunting task, it's all part of Keith's dedication to perfection.
Under the hood, Keith runs a MoTeC 142 ECU and a 127 data logger dash, giving him complete control over the engine, transmission and turbo. This level of technology goes beyond what a factory ECU can provide, allowing Keith to maximize the potential of his Duramax L5P.
When asked about the truck's horsepower, Keith explained that while it came from the factory with 495 hp, it's currently pushing well over 700 hp. This is one of the unique aspects of Keith's build, as it showcases a relatively new engine platform, the Duramax L5P, which was only three years old at the time of the interview. Finding performance parts for this engine was no small feat, but Keith pointed out that companies like S&S Diesel Motorsport were starting to make headway in this regard.